Discover 10 Steps To Amp Up Your Inbound Marketing With Powerful Website Redesign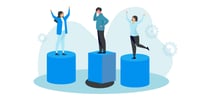 Dull and outdated...That is the last thing you want your business website to be, right? Fortunately, a website slump happens to the best of us and there are many ways to put your site back on track. Our HubSpot e-book will show you powerful steps to redesign your website while amping up your inbound marketing goals.
The e-book includes:
It is time to get your website back on track and your marketing goals back in gear. Get started by downloading a copy of your e-book guide 10 Steps to Turn Your Website Redesign into an Inbound Marketing Machine today.