Use SAP Certified Consultants
Give Your Project Every Possible Chance For Success
Did you know that SAP BW projects that use SAP Certified Consultants have a much higher success ratio? We have one of the largest networks of SAP Certified Consultants in the world.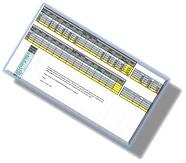 Not sure how many SAP BW Consulting resources you need, then start by using our SAP Resource Estimation Calculator which can be used to quickly estimate how many SAP BW Resources you will need, which can help:
Reduce Project Risk
Increase Your ROI
Get the actionable information you want from your SAP ERP system.
SAP BW Support Service Provider
We specialize in delivering SAP HANA, SAP Business Warehouse Solutions, SAP BusinessObjects Solutions and optimizing your datawarehouse environment for all SAP Industry Solutions. If you need one or a hundred SAP Certified Consultants, contact us now using the form.