wricef functional conversion template
Specify WRICEF Objects from a Functional Perspective
Comes With Sample Data For Ease Of Use
Use our Functional Specification Conversion with Sample Data template to accomplish the first step in your object specification efforts during your SAP implementation. This SAP Project proven template will ensure you do not miss any critical elements of your specification.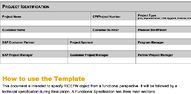 Functional Specification Conversion Template
Our WRICEF Functional Specification template will guide you through the entire process!
Get the specification right the first time!
You can use it to specify Workflows, Reports, Interfaces, Conversions, Enhancements, Forms and Authorizations also known as WRICEF or RICEF-W, depending on the project.

This specification can normally function as your project template on any type of SAP project.