Times are definitely changing in the marketing world.
I witnessed another marketing phenomenon as I was at a lounge this past weekend in Miami. As I waiting in line in the ladies restroom, I discovered a lit up replica of an iPad on the wall with an advertisement for a women's fitness center with a QR code. Huh. It certainly grabbed my attention. Although the fitness center wasn't in my local area, I was very intrigued. Their marketing goals clearly target the local females in the Miami area from ages 21 to 40, and there is no better way to gain exposure than putting up a flashy interactive ad to a group of women who have to wait a good period time with nothing else better to look at except maybe themselves in the mirror than a ladies restroom at a drinking establishment.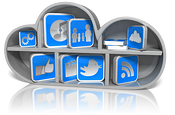 The fitness center certainly is aware of what it now takes to differentiate itself from the oversaturated and competitive fitness market in the South Florida area. I can't tell you if the bathroom marketing effort is a successful campaign or not, but it is creative, it is eye catching and did have a clear call to action with a discount linked QR code. It's up to any business to calculate what it takes to make their marketing motives target who they want, in the most cost effective manner, and with the desired results. Many businesses are aware that they need to keep with the ever-evolving current marketing trends or else they will be left behind in the dust as other businesses thrive. However, as every new marketing trend that has been established so far tend to have it's own marketing issues attached to it. Here are two hot current marketing trends that many businesses are now diving into and some suggestions on how some of the issues that come along with these trends can be defeated:
Marketing Trend: The Social-Local-Mobile integration also known as SoLoMo.
Marketing Issue: Regardless of the implementation of business localization through GPS, and social engagement on all the right networking sites, a business seems to have very little leads.
How To Tackle It: It is important to make sure that all functionalities from a business website are mobile-friendly, and that the proper social media outlets target the appropriate consumer for the product or service. A business needs to also be creative and think out of the box when it comes to capturing the attention they want, and clearly define the goal of their marketing efforts. With this in mind, market research is key
Marketing Trend: Inbound Marketing
Marketing Issues: A website with all the bells and whistles has been created along with a fancy Facebook page and witty blogging, but the website traffic is still dismal.
How To Tackle it: Whether it is the content of the website, blog posts, or email and social media campaign, a business needs to analyze marketing efforts and tailor them to the customer activities found on their site. This includes creating relevant blog posts based on popular key words, and creating landing pages with a call to action that allows customers to delve deeper into website content while the business gathers the proper information for new leads.
Inbound marketing and Social-Local-Mobile integration has proven to be the forerunner in the marketing world for now. However, marketing trends may come and go, but it is important for a business to customize each trend properly to their own needs to reach the ultimate goal of their marketing efforts. If your business needs help with their inbound marketing efforts, our Hubspot Ultimate Guide To Hiring An Inbound Marketing Agency will show you where to get started!
Until Next Time…