Now that you have a working definition of Strategy, you can begin to answer the question, "Do you have a well formulated Business Strategy?" Leading companies use a variety of approaches to Strategy, the Balanced Scorecard being among the most widely known and deployed.
While the SAP Strategy Management (SAP SSM) tool (you may also hear it referred to as SAP BSC) fully supports the Balanced Scorecard approach to strategy and is one of the few tools certified by Kaplan-Norton, the inventors of the Balanced Scorecard, as well as numerous others, the real effort remains the definition and acceptance of the BSC framework among the organizational units before, during, and after the implementation of the BSC.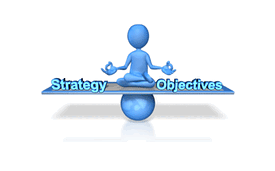 Getting Strategy Right Requires a Balance
To help you align your Strategy, Objectives and Initiatives, please download the balanced scorecard template using the form located further down the page.
This template can be used to develop an enterprise wide

Balanced Scorecard.

You can also use it to develop Balanced Scorecards for individual organizational unit with your business.


This will help you leverage our

SAP BSC SSM Best Practice Expertise.


It is based on a variety of

global project experiences


It will help you define and manage your

Balanced Scorecard Key Performance Indicators.
This template provides a robust method to tie complex objectives and initiatives together which can be used in your enterprise Strategy Management deployment. We can help you develop a complete enterprise wide Strategy Management approach.