How to Classify Data
Have you ever wondered if there was a way to classify individual records, such as vendors or materials into groups directly from the R/3 system? Maybe you knew it was possible to classify customer classification in sap or to do material classification in sap but were unsure how to do it? If so, we would like to explain how you can do it with a detailed How to Guide
Leverage the SAP Classification System
The CTBW transaction code is used when the classification system is leveraged in SAP ECC to extend master data such as Vendors or Materials.
It provides standard functionality for this type of master data enhancement as opposed to creating custom fields in the master data tables.
The data from the classification system is not stored directly in the same tables that the master data is stored in such as tables LFA1 or MARA.
How to Create Data Source in SAP BW
You can create classification data DataSources to extract this information to BW and load it to your SAP BW master data object. However, classification data is not limited to just master data.
Typical Business Scenario:
Local, state, and municipal governments often sub-contract their road or utility maintenance to Infrastructure Maintenance firms. These contracts may contain stipulations regarding the amount of work that needs to be sub-contracted to Disadvantaged Business Enterprises (DBE) or Small, Women owned and Minority owned enterprises (SWaM). This can include stipulations such as spending 20% of the contract value on these types of vendors.
SAP ECC Classification
After an initial analysis, the SAP ECC team determines that the standard EC&O solution does not satisfy the requirements of the organization. As a result, the team finds that one possible solution to this problem is to extend the ECC vendor master data through the classification system.
Potential Issue
The problem with this solution is that the new information is not contained in the same master data tables such as LFA1 for vendors. Fortunately, SAP provides standard functionality for generating SAP BW data sources specifically for the classification system.
In order to run reports breaking down total vendor spend by these types of vendors, the vendor master data object in BW needs to contain navigational attributes that allow a report to be broken down by DBE/SWaM and regular vendors. These attributes can be loaded via the generated classification data sources.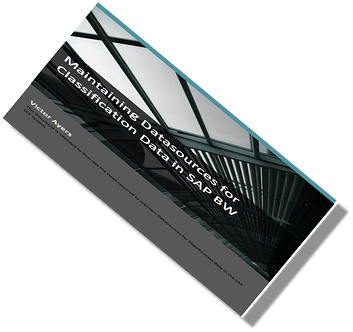 Get our guide to maintaining datasources for classification data in SAP BW
If you need to solve this critical business issue, then press the button below to get our guide to set this up.
Comments are appreciated as are links or suggestions!
People who read this also read:
10 SAP Data Migration Mistakes to Avoid
5 Lessons Learned in SAP BW Data Modeling
5 Reasons a Datawarehouse is Critical to a Solid Balanced Scorecard
Get SAP BW Data Modeling Aggregates Guide
7 Secrets to SAP BW APO Integration
Thanks