Request Inbound Marketing Services
Get an Inbound Marketing Services quote and get started generating leads online using advanced inbound marketing techniques to drive sales-ready leads. We are a Hubspot Certified Inbound Marketing and Sales Agency. We provide Inbound Marketing Consulting and Paid Media Management.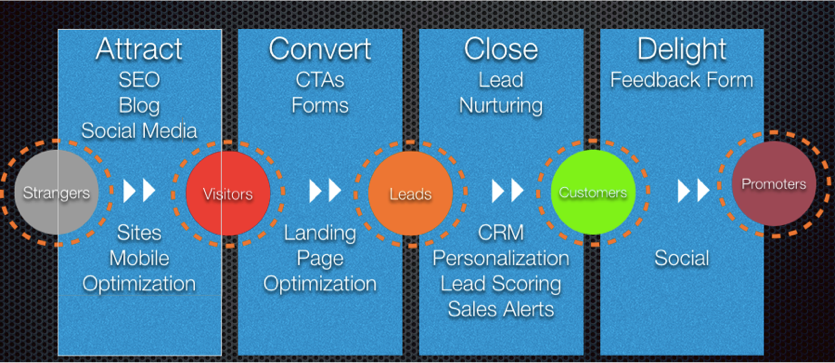 The Inbound Marketing Methodology
Exceptional Marketing Results! If that is what you must have, then Inbound Marketing is the proven way to go. We are a Hubspot Certified Inbound Marketing Agency that helps businesses get found by prospective customers and ultimately convert those customers into delighted customers!
Our customers have generated hundreds of thousands of highly qualified leads and customers using our Inbound Marketing and Sales expertise. We provide:
Which Industries Do We Serve?
Our primary industries align closely with those we serve as SAP Consultants:
Financial and Insurance Services
SAP Partners who need an Inbound Agency with deep SAP expertise
SAP BusinessbyDesign Partners
CPAs (Certified Public Accountants)
E-Commerce, especially those that combine Hubspot Inbound Marketing with Shopify, or other e-commerce platforms, such as SAP Hybris, Magento and custom built shopping carts.
Sales Training Agencies
Recruitment (All companies need recruitment services and Inbound Marketing delivers candidates)
Diet and Supplements
Logistics Service Providers (LSPs)
Airlines
Railways
Professional Service and Consulting Firms
Aviation manufacturing, MRO
Our Additional Value Add to You.
We started as Hubspot Customers, being invited to become a Hubspot partner, specifically focused on the SAP market. Our deep Supply Chain background coupled with Business Acumen developed from years of real world experience, allows us to provide additional advice on inventory management, international sourcing strategies, profit improvement strategies and venture capital. Our customers rely on us for practical, yet state-of-the-art marketing and sales consulting services. Others record every online and offline meeting we have with them, so they can share it with their team.
Our team all hold multiple Hubspot Inbound Marketing and Sales Certifications. All of these have to be renewed annually as the art and science of Inbound Marketing progress. We have worked with some of the highest volume enterprise inbound marketing clients as well as a number of one man start-ups. Our inbound marketing consulting services for professionals generates amazing ROI. Our biggest challenge is that our customers keep getting bought out or go public, or both.
We have helped a number of clients go international with their inbound marketing efforts. In fact, our very first Inbound Marketing customer was international, being a SAP Partner based in Dubai, UAE while selling complex SAP solutions, globally.
Hubspot Certified Inbound Marketing Agency
We are a Hubspot Certified Inbound Marketing Agency as well as Hubspot Certified Growth Driven Design Agency. What does that mean to you? That we are the tip-of-the-spear when it comes to designing effective marketing and sales strategies. We stay sharp and help you achieve incredible business and personal success. Are you ready to succeed? Do you have goals you want to achieve? Do you want to dominate your market? Let's make you and your company winners.
Ready to get started?
Just complete the form on the right to get a customized Inbound Marketing Services Quote.