I wrote this to my congressman about a year ago. A few of my Engineering and Information Technology Consultant friends wanted me to put it up as a White House Petition since it seemed like a logical thing for the government to already be doing, but as it turns out, they are not already doing this. The Government is not doing this, the State is not doing this and your Company is not doing this.
No one is doing this.
So I finally did and put up this petition. I need 150 votes by you and people like you before the white house will open this petition up to all of America to see. I need 100,000 votes before the President will even get see it.
Right now only you and I know about this petition because I gave you the link. You gotta vote, you gotta vote today, you gotta ask your friends to vote. Takes 2 minutes or less.
As my small gift to you, I will give you the full text of my very private congressional letter and my petition right here on this page which you can see and read below for youself so that you can also send this text to your congressman to take some action on your behalf.
We all know how the H1-B visa program works by now: you go to school, you study hard night and day for 4 years, you take on massive school debt, you graduate as a top Information Technology student, you get a job, 3 years into your American dream job, company budget gets tight, stock holders are not happy, you start training new employees how to do your job, you lose your job to the new employee who is on an H1-B and now someone else on an H1-B getting paid $1 less than you who is not you gets your job (because managment could not find any qualified candidated to do your job), stockholders are appeased, everyone is happy, except you who got the pink slip. Good luck with all that debt now that you are unemployed or underemployed maybe forever ! That's how the program works. Nothing new there. That's how it's worked for the past 17 years.
This petition has been up for 3 weeks and I only have 3 votes so far. I need 147 more votes. Please may I have your vote today. I need your vote. For your future job security, you need your vote.
This petition will expire on May 4th 2017 without your vote cast today. So please follow the link below and place your vote. Also please leave any comments you have below.
Here is the link where you can vote anonymously.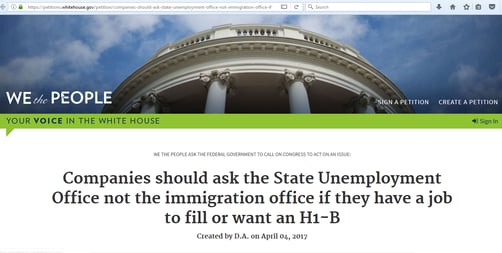 FOLLOW THIS LINK TO CAST YOUR VOTE and TO READ THE PETITION:
https://petitions.whitehouse.gov/petition/companies-should-ask-state-unemployment-office-not-immigration-office-if-they-have-job-fill-or-want-h1-b
HERE IS FULL TEXT OF THE LETTER TO MY CONGRESSMAN FOR YOUR READING PLEASURE
Mr. Congressman,
I think if companies need H1-Bs or simply have a job to fill, companies should be asking the State Unemployment office for workers not the immigration office. And if the state unemployment office cannot find STEM workers from any of the other 50 state unemployment offices then and only then should the unemployment office ask the immigration office to bring in one new H1-B. Asking for an H1-B should not be something a private company should have the power to do directly.
Companies don't turn to state unemployment offices to find workers, instead the federal immigration office has become the de-facto national unemployment office or national job export office. Jobs leak out of America at a horrendous rate.
The US immigration bureau should be barred from even consulting with private companies and they should be only consulting with state unemployment offices.
The Unemployment Office is not a resource that workers, employers or universities and career counselors can turn to because the system is not working.
The job market is now very fragmented due to the internet and the fact so many newspapers have gone out of business in recent years. In the old days, companies put ads in the local newspapers and you could simply buy a paper and find a job locally. We can't even buy a newspaper any more. If I could just go to the unemployment office and know that is the only place I need to go to find work, I would be a happy guy with such a simple one stop system. As it is I have to go to hundreds of company career pages and job boards only to never hear back from anyone as many companies are posting "Fake Jobs" in order to solicit "Contingent Rainy Day" resumes. But I've had to waste lots of my valuable time dealing with fake jobs postings.
It is virtually impossible to find a job due to fragmentation caused by the internet. Companies all have a career page and they all use a different job posting board like linkedin, monster or a new one that seems to come on the market every day like zip recruiter and they all want you to fill out a profile page which takes about 1 hour. But you have to have a ready-made company list or job board list before you can even find a company website or use any of these services.
By funneling all job openings through the local State Unemployment Office or a national unemployment office, workers will have 1 simple place to go to, to find work. You can fix the unemployment and underemployment issue, have a good estimate of the actual unemployment rate, help universities target skills to educate for and you can solve this never ending flood of H1-B's taking jobs when so many people are unemployed or underemployed.
Thanks,
Doug Ayers
1-256-665-7500
Other related articles on H1-B Abuse
http://money.cnn.com/2017/04/07/technology/h1b-visa-cap/index.html